For Jay.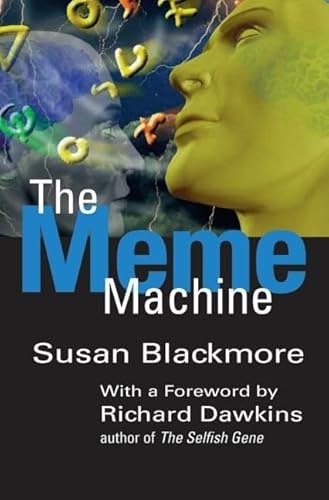 1. There are some interesting, very engaging ideas in here, but at the same time, I'm really disappointed with the logic used throughout. Early on, she starts explaining her biases—and this is an incredible positive. It's refreshing to read an academic text that has such a clear outline and explanation of the biases. For instance, in Chapter 2 she explains, "The problem is that this beautifully simple idea is often misunderstood." I have three main problems with this statement as a logical statement.
—First, this assumption that understanding necessitates agreement is a fallacy. I understand both many ideas I disagree with and many I agree with. I also don't fully understand many I agree with—like gravity or vacuums—and many I don't agree with. Whatever the matrix looks like between agree-disagree-understand-notunderstand, I think this assumption of Blackmore's is a fallacy.
—Her calling this idea beautiful twice in three sentences before explaining the idea forces the reader to accept her conclusion on faith, or go into the explanation already disagreeing with her. In other words, her writing forces polarization in the readers before they're given enough information to make up their own minds. This doesn't set the reader an easy task of interfacing with the logic.
—By saying the beautiful idea is "often misunderstood", she implies that this idea is not universally accepted, but does nothing more then set out the sketchiest straw-man argument for her opponents—they misunderstand—that is disingenuous to her own arguments: it steals her potential thunder by not engaging points her adversaries actually make. She had a wonderful opportunity to engage and teach, yet she dismisses her opponents this brusquely.
—This one sentence outlines my main problems with this book, and makes me question who the audience is: people who disagree are alienated, those who agree will be bored by the explanation to come, and those who are unsure are being forced to take a side before being given any information.
2. These problems are emblematic of the whole. Blackmore's structure and method of explanation is simply ineffective. She waffles back and forth between off-the-cuff judgments—the idea being beautiful—and confusion over what she is saying, how she is saying it, who she is saying it to, and why she is saying it. These issues continue throughout the book, and keep the reader pushed to the outskirts the entire time.
3. My last major problem is that the logic is poor. Again, an early example that showed me what to expect coming down the pipe: "Where do new memes come from? They come about through variation and combination of old ones." (15) I couldn't think of a less interesting, less informative, less obvious question and answer about this subject. She ignores the potential interest and importance of meme origins and blazes ahead with confused and off-put readers, building arguments on assumptions and name-drops, then dropping the argument before actually beginning to argue anything from logic. She doesn't even examine her biases to a level that satisfies me—their references come off more like name drops than premises. I could not stay interested throughout this book.
4. At the end, there are some engaging ideas that roll around in your head for days and weeks, but this is pop science. It's some sort of proto-theory, a skeleton hypothesis, a starting point rather than a discussion. I understand that. But this means that the book never goes any deeper than the two quotations listed above. I went in looking to understand some interesting ideas, and ended up understanding nothing new, being confused by undefined terms inundating the work, and wondering if she actually gets around to arguing something and I missed it.
5. The theme here is pretty clear to me: it's proselytistically pro-active nihilism. It argues that nothing has any meaning except what you put into it, and that's that. A lot of metal music has trod this path for the last twenty years, and so I wasn't surprised to see it here, or confused.
6. Philosophy has been dealing with this issue for thousands of years. It takes different names—nature and nurture, mitsein and dasein, featherless biped with soft nails, the herd and the individual, nesting venn diagram worlds—and Blackmore is simply attempting to drag this discussion closer to quantifiable science. But in so doing, she's just created another set of made-up words referring to similar concepts.